Celebrities are hardly casual in most of the endeavors they engage in and considering their busy lifestyle, one would think they won't really have the time to cater for a pet. These celebrities. However, these celebrities, ranging from Leonardo DiCaprio to Mike Tyson, have had the strangest and most unusual animals as pets.
1. Reese Witherspoon's Donkeys

In addition to a Labrador retriever, French bulldog and other celebrity pets, Reese Witherspoon has two donkeys that she calls 'Badonkadonks' and describes as 'sweet and docile'. She named them 'Honky' and 'Tonky'.
2. Mike Tyson's Tiger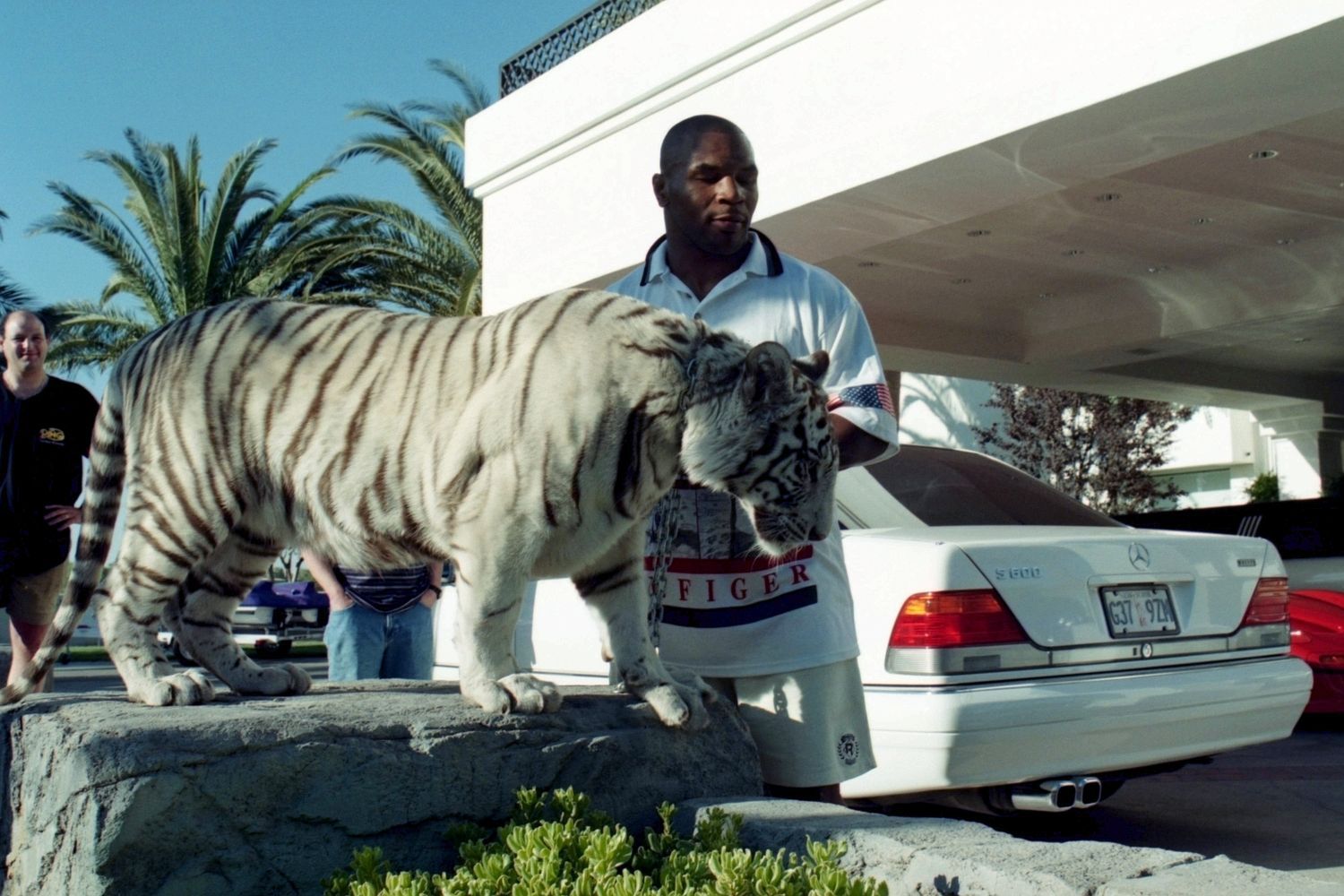 Among celebrity pets these were truly exotic celebrity pets. Mike Tyson's attraction for tigers made him to get three white Bengal tigers throughout his career and that got him a role in the 2009 movie 'The Hangover'.
3. Melanie Griffith's Lion

Although most celebrities' choices for celebrity pets are unusual and weird, most of them don't go so wild with their choice of pets. Melanie Griffith's mother, Tippi Hendren and step-father, Noel Marshall made a documentary about large cats which then led to them adopting a lion to better understand the species. Pictures were released later on showing the family treating the Lion as a casual family member but she later admitted that it was 'beyond stupid' to have a feline so dangerous as a pet.
4. Justin Bieber's Capuchin Monkey

While Justin was on tour in Germany, 2013, got a monkey named Capuchin monkey named 'Mally' for his birthday. However, the exotic celebrity pet was confiscated by German customs due to laws involving exotic animals.
5. Leonardo DiCaprio's Tortoise

The award-winning actor and wildlife activist got an African spurred tortoise for 400$ in 2010. Tortoise are known to be capable of living for up to 150 years so Leo has a long time to spend with this slow-moving fellow.
6. Kristen Stewart's Wolf-Hybrids

Jules Stewart, the twilight actress' mom, trained four Wolf-hybrids. All of which Kristen grew up with and refer to as 'companions' instead of pets.
7. Audrey Hepburn's Baby Fawn

The exotic celebrity pets craze didn't just start recently as even Audrey Hepburn had an affinity for strange pets. While making the movie Green mansions Audrey had the deer as a co-star. She decided to take it home to make to more comfortable with her and it did, a lot.
8. George Clooney's Pot Belly Pig

This was a truly top-class pet among exotic celebrity pets as it sometimes accompanied the award-winning actor to interviews. The over 250 pounds pig, named max, died after 18 years with George.
9. Paris Hilton's Kinkajou

The celebrity pet named baby luv was at first a great addition to Hilton's pet history but turned out to not be so exotic like most rare celebrity pets when it sent her to the emergency room when it bit her arm and made her get a tetanus shot.
10. Miley Cyrus' Pig

The pop singer's house is full of so many dogs and cats but there is an outcast in the set which is the celebrity pet pig originally named Bubba sue. Miley later changed the name to 'Pig' and occasionally calling it by the nickname 'pig pig'.